In late 2016, following substantial analysis of a range of options responding to the Lacrosse fire, the ABCB developed, and the Building Ministers' Forum agreed, to a comprehensive package of measures.
Principal amongst these are:
completing and publishing AS 5113 as a method for Fire propagation testing and classification of external walls of buildings as part of a Performance Solution;
improving the clarity of wording in the relevant provisions of the NCC;
enhancing evidence of suitability provisions and developing a new supporting handbook to complement them;
issuing a National Advisory Note in respect to external wall claddings and assemblies;
improving the CodeMark product certification scheme;
options for improving compliance documentation; and a range of education materials.
Whilst some measures are complete the Building Ministers', at their 30 June 2017 meeting, directed the ABCB to expedite completing and adopting those actions involving any changes to the NCC. These measures represent key steps taken by the ABCB in helping address using non-compliant external wall cladding, and products more generally, as the potential for non-compliance is not confined to the use of external wall claddings.
View Article Gallery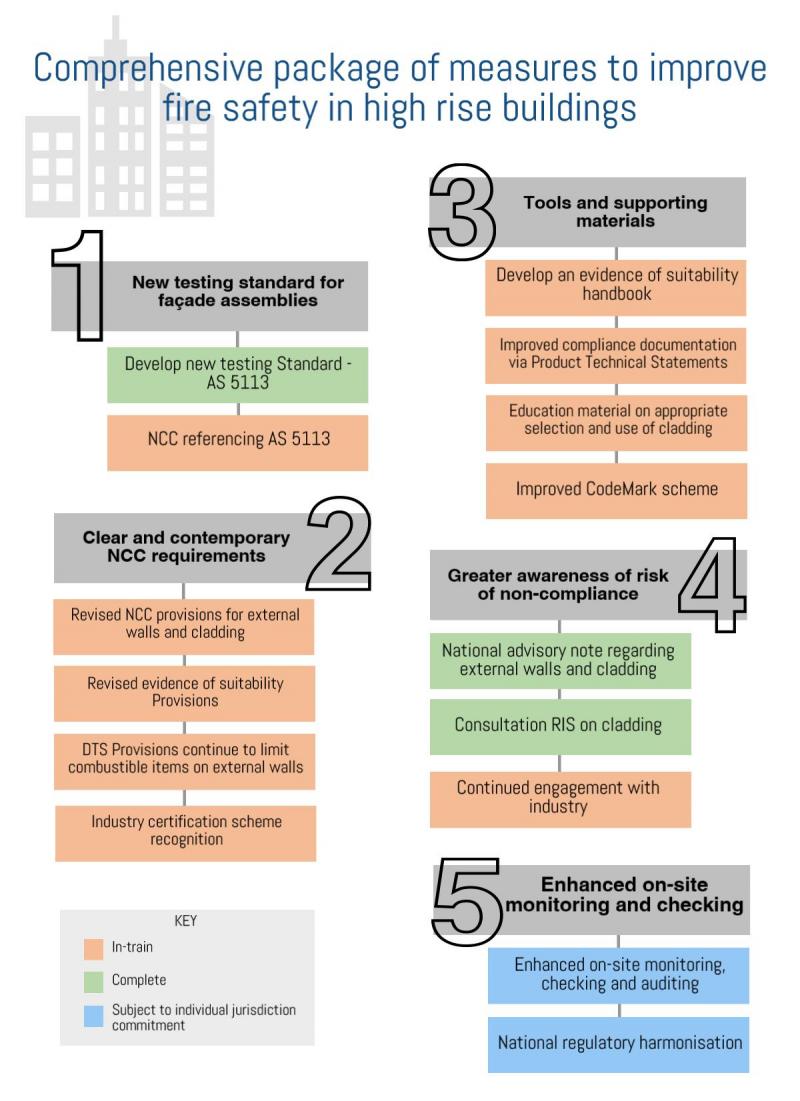 NCC Administration
The comprehensive package of measures also identifies the critical importance of enhancing on-site monitoring, checking and auditing of non-compliant use of products by the States and Territories. This provides an opportunity for improving national regulatory harmonisation and reducing the potential for inadvertent non-compliance from differences in regulatory requirements between the jurisdictions.
The Building Ministers' Forum also agreed to take steps to consider broader compliance and enforcement problems within the building and construction systems, by commissioning an expert to provide advice.
Through this the Ministers' have recognised the necessity to not only deal with the immediacy of non-compliant external wall cladding, but consider the system as a whole rather than the individual components, of which the NCC is part.
Want to know more?
Read these related ABCB Connect articles:
Fire Safety in High Rise Buildings
Non-compliant and non-conforming products
NCC 2016, Volume One Amendment 1